Depend® Protect Plus+ Absorbent Pants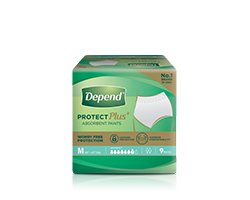 Depend® Protect Plus+ Absorbent Pants
DEPEND® Products:
DEPEND®, the No. 1 brand* in USA, has been a globally established brand in providing bladder leakage protection and incontinence solutions. It has been specifically designed to be truly discreet and comfortable, yet highly absorbent.
*Based in Client calculation of Nielsen Scan Track Data for Adult Care US Market for 52 weeks period ending September 2019. Copyright @ 2019. The Nielsen Company.
Depend® comes in both Absorbent Pants and Absorbent Tapes formats:

It's super comfortable yet discreet and fit!
It's designed to be fast and highly absorbent to make users feel drier and fresh.
It locks odor for users' confidence and unrestricted lifestyle

Visit DEPEND® website to learn more about maximum bladder leakage protection for active seniors and somone you love who may be mobility-inconvenient.